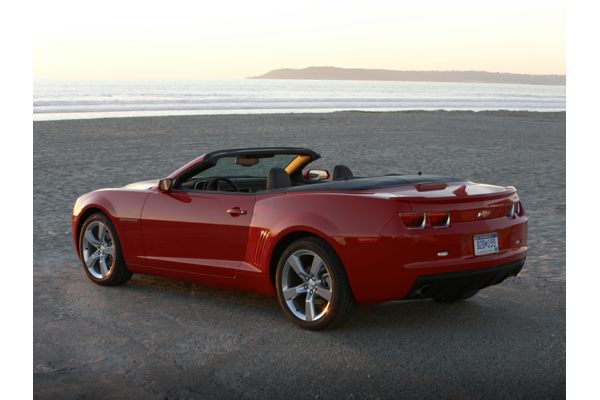 Chevrolet rolled out a convertible version of its Camaro muscle car for the 2011 model year, and thank goodness it did. This car is great looking and fun to drive.
The convertible comes with a V-6 or V-8 engine and a six-speed manual or automatic transmission, just like the coupe.

Chevy added structural reinforcements such as a tower brace under the hood, a reinforcement brace for the transmission and underbody bracing to bolster the convertible's rigidity, producing a more sports car-like ride.

The Camaro convertible's power soft-top takes about 20 seconds to lower, and it's quite easily done. There is a latch above the windshield that you release, then touch and hold a button, and voila -- roof is gone.
The canvas top features sound-dampening material and a glass rear window with a defogger, and has the silhouette of the coupe's metal roof when raised.
The car looks great with top up or down.
Camaro LS and LT models take the V-6 engine, while a V-8 is featured on SS models. With the automatic transmission, the V-8 has an Active Fuel Management system, which shuts down four cylinders under light loads.

The Camaro takes three suspension settings, with the LS and LT models getting a sport-tuned suspension, the SS convertible having the FE3 setup and the SS coupe holding the new FE4 performance suspension. SS models also hold large Brembo-brand brakes and adjustable electronic stability and traction control settings and manual-transmission versions have Launch Control.
Engine features are:
323-hp, 3.6-liter direct-injected V-6 with 278 pounds-feet of torque
400-hp, 6.2-liter V-8 with 410 pounds-feet of torque (automatic SS)
426-hp, 6.2-liter V-8 with 420 pounds-feet of torque (manual SS)
Standard six-speed manual transmission
Optional six-speed automatic
Camaros range from around $24,000 to about $42,000.
For good looks, fun driving and a retro, muscle car style, it's hard to beat the Camaro.