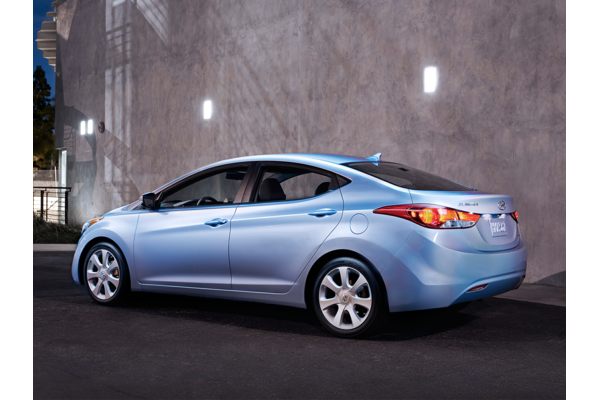 The 2012 Hyundai Elantra remains one of the best compact cars on the market, thanks to its great styling, superb fuel economy and very reasonable sticker price.
The Elantra, which got a redesign in 2011, now has a new Active Eco System that smoothes the throttle response and boosts fuel economy by as much as 7 percent.
The steering has also been enhanced.
The common design language used by today by Hyundai, which the Korean company calls "fluidic sculpture," is found on the Sonata and Accent, as well as the Elantra.
It's a beautiful body styling that makes each model look luxurious and far more expensive than the car actually is.
The only question Hyundai will have to deal with in using this styling is what it will do for an encore and when will it have to do it. There is likely to become a point at which this bold styling will look dated, but that might be a few years off yet.
On the interior of the Elantra (and its other models), Hyundai gets more praise for the quality of materials and the spaciousness and comfort. In fact, Elantra has enough size to be classified as a midsize sedan by the EPA.
The highly fuel-efficient engine is a 1.8-liter, four cylinder that makes 148 horsepower and is linked to a six-speed manual or automatic transmission.
The Elantra gets 29 mpg in the city and 40 highway, and as Hyundai is fond of pointing out, that 40 mpg figure comes with no asterisks, meaning you don't need a particular engine or trim level.

Speaking of trim levels, there are two - GLS and Limited, and each has plenty of goodies.
Hyundai says it offers as standard equipment power windows and locks, USB/iPod input jack, satellite radio, remote keyless entry, and premium cloth seating. For options, you may choose a high-res navigation system and Bluetooth connectivity. And for comfort, you can get rear heated seats, front heated seats and leather upholstery.

There are plenty of safety features such as all-disc antilock brakes, six airbags, an electronic stability system and a tire pressure monitoring system. Elantra was made a top safety pick by the Insurance Institute for Highway Safety.
Elantras range in price from a little more than $16,000 to almost $23,000.
This is one of the best cars on the market, worth every penny that you'll spend on it.