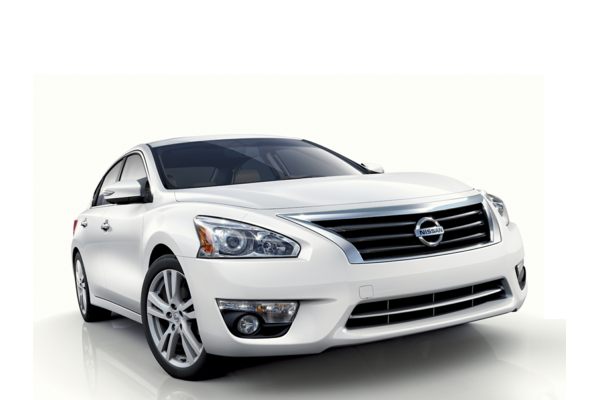 For the 2013 model year, Nissan decided to make its popular Altima sedan larger yet lighter, better in fuel economy and sportier design-wise.
It sounds like a tough task, but Nissan pulled it off beautifully, and the result is a terrific midsize sedan.
You might see some striking similarities between this Altima version and recent years' versions of its larger sibling sedan, the Maxima.
Altima's front grille is redesigned, with more dramatically angled headlights. There's also a slashing line that runs the length of the car at its midsection, creating a sportier flared look.
The engines are the same as in the previous model year, with a 2.5-liter four cylinder that makes 182 horsepower or a 3.5-liter V-6 that makes 270 ponies. The transmission is continuously variable (CVT) and functions effectively as part of this drivetrain.
Thanks to some engineering magic, the Altima's overall size was increased, but its weight dropped. This allowed for improved fuel economy, and the Altima now posts impressive numbers of 27 mpg city, 38 highway with the four-cylinder engine and 22 and 31 with the V-6.
Nissan also added a huge 18-gallon tank to the Altima, which allows it to go more than 680 miles when it's full.
The interior has seen some improvements too, with better quality materials and a pleasantly designed layout of the dash.
Options for comfort and convenience include NissanConnectSM, which allows the user access to audio from Pandora, an iPod connection and verbal text messaging, as well as leather upholstery, heated seats and steering wheel, dual-zone climate control and navigation with touch screen.
The Altima also has a Nissan feature that is one of the best innovations of the past few years: the Easy Fill tire system. When you are inflating the tire, the horn will sound when you achieve the proper amount of pressure.
On the road, the Altima is no slouch either. It handles and accelerates nicely, and braking is firm and sure.
With all of this technology and styling, you might expect the Altima to be a bit pricey. It starts at around $23,000 and ranges to nearly $33,000. The higher end of that range might make it a little difficult to sell to value-conscious consumers in this competitive sedan segment.
But for those who appreciate the outstanding qualities the Altima has to offer, it should be a great choice.